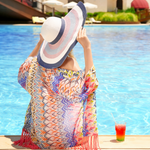 As we have officially launched into spring and as we begin to pack away our wool sweaters and rain gear, it's time to begin thinking about spring and yes, even our summer outfits.  If our Pacific Northwest summer is going to be anything like last summer the less fabric that touches the skin the better.
Enter the caftan, and no they aren't just for Palm Springs vacations or The Golden Girls anymore.  In the late sixties, the caftan emerged as a modern, effortless uniform and has transcended time.  The caftan is so versatile that Yves Saint Laurent lounged in the Majorelle Garden in a Moroccan version and the great news: the caftan has made a comeback.
The latest versions, while still cut in forgiving proportions, take a more subtle and polished approach that can look as casual or formal as desired.
A caftan is great for the beach, a bathing suit coverup, an afternoon wine tasting, or even a formal affair with a lot of jewels and a top knot.
Whether you are ready for the return of the caftan or the maxi dress for the upcoming warm and sunny days Consigning Women has you covered.
We are currently accepting all spring fashions, think resort wear, maxi dresses, caftans, and sandals. We are always accepting designer handbags and accessories.