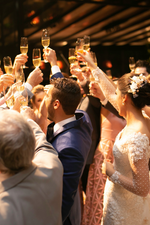 With 2020 and the majority of 2021 postponing weddings left and right, it seems EVERYONE is trying to squeeze their wedding into 2022. We get it, and no one besides a completely unprecedented pandemic is to blame, but that doesn't take away from the fact that this summer and wedding season is about to get pretty nuts.
For the sake of this post, we are narrowing it down to different categories of dress codes that we have found on wedding invitations.
Casual Dress Code
When it comes to a casual wedding dress code, this is where we believe in purchasing a dress that you would wear again. It should be dressy enough that it's not an "everyday" dress but casual enough that you could also wear it to non-wedding events.
Cocktail Dress Code
 A cocktail wedding dress code means you can wear a shorter-length dress, but it must still be fancy and formal. This is the most popular wedding attire choice, so here's to hoping one dress in this category will get you through all of the wedding season.
Semi-Formal
Semi-formal is the most confusing wedding guest attire category. Semi?? Formal??? After much research, it has come to my attention that it is very similar to a cocktail dress attire, except semi-formal; the length of the dress should be at least below the knee. Also, according to brides.com, a semi-formal wedding calls for "darker, more formal colors for an evening wedding, and light colors and fabrics for a daytime event."
Formal
A formal dress is either a floor-length gown or a fancy cocktail dress. Please think of this category as what you might wear to prom but make it mature adult. You don't want your dress to scream, "I am in the running for prom queen," but the level of "fancy" is about the same.
Black Tie
Black tie weddings are intimidating. A black-tie dress is a floor-length gown, full stop.
Shopping at Consigning Women can help you with this as both the guest looking for a dress and a consignor. We know that you have a few dresses in one of these categories that you aren't going to wear again, and therefore when you clean out your closet, you are helping a wedding guest in need find an affordable and sustainable dress.
We accept summer and any of the above wedding guest dress categories.  Call now (503-697-1636) to book your consignment appointment – we are open 11-5 7 days a week!