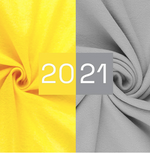 The Spring and Summer 2021 Colors that Pantone picked for its Spring - Summer 2021 fashion trends report are refreshing, inspiring, and joyful. Renewal seems to be the overall theme. I'm also absolutely loving Marigold, Rust, Burnt Coral, and all the Core Classics. Rust is one of my favorite neutrals, as is Marigold, and I particularly love either of them together with any pink shade, especially for spring-summer.
The two Pantone colors for 2021, Ultimate Gray and Illuminating, reflect what is taking place in our global culture, the way the world around us seems to feel, expressing what people are looking for that color can hope to answer.
"Ultimate Gray is emblematic of solid and dependable elements that are everlasting and provide a firm foundation. The colors of pebbles on the beach and natural elements whose weathered appearance highlights an ability to stand the test of time, Ultimate Gray quietly assures, encouraging feelings of composure, steadiness, and resilience. The union of an enduring Ultimate Gray with the vibrant yellow Illuminating expresses a message of positivity supported by fortitude," said Leatrice Eiseman, Executive Director of the Pantone Color Institute.
At Consigning Women we do our best to also Highlight the Pantone Colors of the year, and honestly Ultimate Gray should be Portland's signature color. Ultimate Gray is such a versatile basic that also belongs permanently in your capsule wardrobe.
With all of the spring-like weather we have been having lately in the Pacific Northwest, let us not forget that it is still January, and winter will come back at any time. Our online and physical location is stocked with winter clothes to get us through the more winter-like weather that will surely reappear.
Our Lake Oswego location is open seven days a week from 11 am to
5 pm, and our online store is open 24/7 every day of the year. We look forward to seeing your masked faces soon.