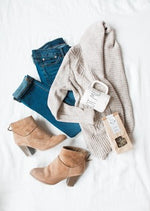 There is a crispness in the morning air that suddenly alerts us that fall is approaching. While this year has been different than any other summer that we have experienced, we aren't quite ready to let the weather go.
The weather might be changing, but that does not mean you need to put your summer clothes away right this instant. Many of your summer pieces can transition into your fall capsule wardrobe. We live in the Pacific Northwest, and each of us has mastered the art of layering for the seasonal transitions. Fitted t-shirts become the base layer under a lightweight jacket or sweater. Boots and booties begin replacing sandals under our maxi dresses, and lightweight bags get traded in for our leather bags.
Full fall weather is still weeks away; we are, however, accepting fall transitional items. During this transitional season, we'll be taking transitional pieces. Transitional pieces include layering pieces, lightweight sweaters, denim, booties, and light coats.  We may have less places to go this year but we can still be fashionable when we do go out.
Before you bring in your consignment, please read our website consignment and FAQ page for the most current policy updates. Book your consigning appointment by calling the store 503-697-1636. The store is back open seven days a week from 11 am - 5 pm.