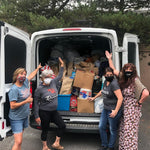 This summer was one of the strangest that I have experienced here in Oregon. Between COVID keeping us safe and home and the recent devastating wildfires to our state, we Oregonians have been showing challenge and challenge again just how resilient we are.
Thank you to everyone who has supported us by purchasing or consigning with us during this uncertain retail summer. Your continued commitment and support to our little boutique allow us to help with the fire relief efforts in southern Oregon.  We have filled our van and driven down to the Ashland area as well as other local shelters in Clackamas County a few times in the past week bringing the Red Cross and other organizations supplies of bottled water, first aid kits, pet food, diapers, baby food, canned food and all different types of hygiene supplies.
We will keep you updated on any additional supply runs we will be doing to Southern Oregon or locally. Please watch our social media channels for more up to date info.  As we move into fall, let us continue this overwhelming sense of community and helping members of our state who are in need.