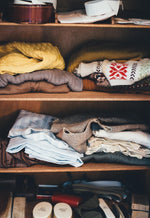 It might be the middle of summer, but if you are shopping at those big-name stores, you probably have been noticing that the fall clothes and accessories they are beginning to come out.  Since we are a group of planners, we wanted to get some of our favorite tips out there on how to update your wardrobe for a new season.
We are not huge fans of cluttered closets. Do your clothes live in a closet where you can barely move them to see what lives in between them all?  Have you forgotten what clothes you have for any season?
Having a mental inventory of what you have is why we think that it is super important to look through and clear your closet out twice a year.  When the seasons change drastically from summer/fall and winter/spring is an excellent time in our minds for many reasons.  
When it comes to getting dressed, you want to be able to see all of the clothes that you have.
Step 1.  Start by taking out all your previous seasonal clothes.
For example, if you are switching over from Spring/Summer to Fall/Winter, take out your lightweight sweaters, t-shirts, flowy pants, and maxi dresses. Any items that you are unable to layer and will unlikely wear in the colder weather.
As you are taking those pieces out, note whether you even wore those pieces in the past season or not. If you didn't and either they don't fit correctly, or you aren't crazy about them anymore it's time to let them go.
If you don't have a separate closet or room to store your out of season clothes, may we suggest some Rubbermaid boxes that fit under the bed to help keep your wardrobe in season and it will be much easier to get dressed.
Step 2. Next up is assessing your clothing for the upcoming season.
So again, using the example of moving into the Fall/Winter season, this includes the pieces that were put away at the end of last winter+ the multi-seasonal pieces still in your closet that you wore during the Fall/Winter season (jeans, t-shirts, layering sweaters, etc.).
As you begin sorting through those fall/winter pieces, once again get rid of anything that you know you didn't wear last fall/winter and arent' really into as well as anything that doesn't fit anymore. 
Step 3. Now, looking at what is left in each your spring/summer fall/winter wardrobe, review everything to see if there is anything that stands out that you absolutely love and are looking forward to wearing again.
If so, take those pieces out of your closet, lay them on your bed and start brainstorming outfit ideas. Once you have your outfit ideas and what you want your overall style to look and feel like for the season, go through your wardrobe to see if I have those extra elements (or something similar) to create a head to toe outfit using those items that you are excited to wear.
If you do have those elements, take them out and add them to your fall/winter faves.
If you do not have the add on pieces that you need to create your dream outfits, add those items to a shopping list for the season – this can include everything from tops to bottoms, dresses, shoes, and accessories like belts, scarves, and jewelry.
Continue to go through this process for all the pieces in the closet that you love and are excited to wear in the coming season.
By the way, what you are mostly doing here is creating a Capsule Wardrobe for the upcoming season.
Step 4. Once you have your shopping list complete, go through the items that you wrote down and look to see if there is anything there that you think you will wear with the other pieces in your "love & excited to wear" pile.
Since you are essentially creating a Capsule Wardrobe of "go-to" outfits for the season, the idea is to be able to mix and match pieces that make the closet cut with one another as much as possible, instead of having "one-off" pieces that only go with one other thing in your wardrobe.
Step 5.  When you have your must-have list complete, and you are ready to begin shopping. Box up the clothes that you aren't entirely in love with anymore, especially if they are in great shape for consignment.   When you venture out on your shopping trip, take with you the box of clothes that are ready for their second life. While your clothes are being evaluated for consignment, look at their racks to see if there is anything that will fit your must-have list.
Remember that it's not a race and that you do not have to get it all your must-haves in one single shopping trip. This mindset is when people start to compromise.
Take your time to find the perfect pieces, you didn't purchase all of the pieces that you love in one shopping trip, and you are not going to find new articles that you like in one shopping trip.
After you have finished your closet detox process, please give the store a call to see what we are currently accepting on consignment and what we season we are now selling.  Year-round we offer designer denim and other multi-seasonal basics.