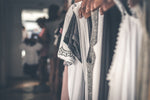 Shopping consignment stores is more of a treasure hunt than a chore, and getting designer and well-made pieces at a fraction of the cost make both you and your wallet happy.  Capsule wardrobes are great because when you open your closet, you are face to face with pieces that you genuinely love.  When you open your closet door, you will know exactly clothes are in there. With this knowledge, you can most likely put together an outfit in less than five minutes.
Knowing what to wear and getting ready -stress-free- in five minutes is possible, and one thing can help you achieve it: the year-round capsule wardrobe.
For those of you not familiar with the capsule wardrobe concept, we are referring to a certain number of basic clothes that pair well together season after season.  
 We are not suggesting exact numbers of pieces for your capsule wardrobes. The only principles that should apply when building a wardrobe are:
 Loving each piece in your closet;
Being confident that those pieces deserve to stay in your wardrobe for the next 8/10 years;
Being confident that the pieces you don't want anymore can be resold or consigned.
When you apply these simple principles to your closet, you will find yourself with a smaller wardrobe and see where your passion leans when it comes to your clothes.
Shopping upscale consignment is a great way to build out a capsule wardrobe that will stand the test of time and last the 8/10 year mark.  The brands carried in upscale consignment stores are brands whose pieces are known as investments and to stand the test of time. 
Here are six tips that we have found help aid in the building of your capsule wardrobe by shopping at consignment stores.
Start With a List
The capsule wardrobe relies a lot on wardrobe staples, and even though secondhand shopping is more affordable than purchasing the items retail, you still must keep your budget in mind. Make a list of things that are important to you to own this year and consider dividing your list into the different capsules. Consider items like a good pair of jeans, a crisp white collared shirt, a black skirt, a black pair of jeans, and a good blazer are all wardrobe essentials that can transition to the different seasons.
Build In a Few Trendy Pieces
Once you have covered the basics, you can start jotting down a few of your favorite trends for the upcoming season that you would like to incorporate.  Only embrace the current trends that work for you and your lifestyle; otherwise, it ends up being a pointless task in integrating these items if you are never going to wear them.
Always consider what the Pantone color of the year is and other trendy colors as a way to incorporate a little bit of pop to your capsule while keeping it timeless and embracing the basics.
 Shop Around
Consignment shopping is an excellent way of shopping locally. Also, every consignment store has an Instagram and Facebook presence, sharing and posting some of the latest and best offerings they have in their store.  Once you visit a consignment shop in person and see what types for pieces they like to carry, consider following the shops you love and keeping your eyes peeled on their social media for smart purchases for your capsule.  Remember that building a good and workable capsule wardrobe via consignment stores takes a bit more time and energy than just popping online and ordering pieces from your favorite big box stores.
Be a Brand Dedicated - You Can Afford To
Choose clothing brands that you genuinely love because you will be buying these designers and well-made clothes at a fraction of the cost.
To efficiently do this, try not to be too trendy in your capsule wardrobe and look for brands who have timeless designs. Brands that you have already experienced and know first hand will wash thoroughly will have longevity, and won't fall apart.
Sell It Back
Since you are keeping a well-edited closet with only pieces that you truly love in your fashion capsule, you will know right away what hasn't gotten worn and won't carry over to the next wardrobe. Consider making some money or credit for the clothes and sell them back to the consignment retailers where you made the initial purchase.
Add-In Your Accessories & Shoes Secondhand Too
Not only is buying secondhand great for your wardrobe, but it can be great for shoes, purses, scarves, and belts to complement your items.  If there is a trend like, "emerald green," or "floral print," consider adding these into your wardrobe with accessories instead of as your wardrobe basics. These smaller items are a great way to add something trendy without deciding which trends you think will stick in your capsule wardrobe.
You can have the beautiful and designer capsule pieces that you have always wanted with a little patience. Someone is always editing their items, and the chances are good that ONE THING you have been dreaming of will be yours one day.  Be sure to follow Consigning Women on both Facebook and Instagram; we post outfit inspiration as well as announce new arrivals.