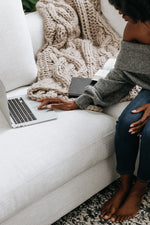 Ugly sweaters, awkward gift exchanges, that person from Accounting having one drink too many… office holiday parties can generate enough inner-office gossip to get you through the spring. But with many offices still closed or facing occupancy restrictions, will company parties be the next victim of 2020?
Just because you work remotely doesn't mean that you have to forgo the holiday party. With a little prep and planning, you can enjoy and get to know your coworkers better through a virtual holiday party!
Even if the office party this year is virtual, you can still dress for a party. Your party's dress code will set the tone for the event. Want to replicate the spirit of your in-person Christmas party? Encourage everyone to dress in cocktail attire. Let's face it. Most of us have been living in sweats for months. Most makeup must-have expired by now. People could use any excuse to dress up again. (For one night. I know so many have come to love their new athleisure dress code for work.)
It's a party, after all, add an extra piece of jewelry, buy yourself a new sweater or blouse to make it feel unique from the waist up. Try one of those lipstick samples that you're saving in a bathroom drawer for a special occasion.  Under a mask, we can't see that fabulous lipstick; bring it out for the Zoom.
Even if you can only see each other from the waist up, a fancy dress code can do a lot to distinguish the party from your weekly team check-ins.
Your virtual holiday party doesn't have to be just another event held via Zoom. With some pre-planning, creativity, and enthusiasm, it can be as fun as your annual Christmas party at an event hall. And the best part? If you drink too much, you just have to make it to the next room to get to your bed!
Cue up a yule log as your Zoom background, make some hot chocolate or a cocktail if it's part of the party festivities, and be ready to have some extra cozy fun.
One of the holiday traditions that we have here at Consigning Women is we usually host fundraising photos of your pets with Santa to benefit Pets for Pongo. Due to 2020, we cannot host the in-person event, but we want to encourage you to still make your yearly donation to The Pongo Fund or any other charity of your choice if you have the means.  This year donations to non-profits are more critical than any other year.
Do you plan on hosting or attending a virtual holiday party this year?