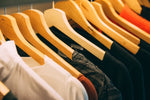 November marked our 17th anniversary; our actual anniversary was on Black Friday this year. The amount of people rallying around small businesses this year is incredible. I was so overwhelmed with the number of people finally sharing their favorite small businesses on their social media posts as if they were sharing a secret family recipe.
It is important to regularly talk about and share the content that some of your favorite small businesses share because shopping independent businesses do make a difference. If this past year has taught us anything, it's how much one of our decisions can have a domino effect on another person.
 Even when there might be times when you can not afford to buy anything, sharing a post, commenting, and telling your friends about a local business helps. You never know who you have told that makes their way to that business and makes a purchase.
"When you buy from a small business, an actual person does a happy dance."
Does shopping small make a difference?
As the holidays approach, there is little doubt that you'll be spending money. Money on gifts, groceries, and pieces of clothing to wear for your holiday zoom events. Where and how you spend your money speaks in ways that you otherwise couldn't. Whether your budget is large, small, or somewhere in between, Small Business Saturday provides you with an opportunity to support your local merchants. These are the community members who hire people in your community, providing them with the wages that keep families and the neighborhoods you love healthy. The momentum behind Small Business Saturday has provided a lifeline to the businesses you shop at and purchase from and the companies that they work with behind the scenes. These include printers, painters, marketing firms, advertising agencies, and more. Shopping small helps keep your community intact and thriving.
Also, you've got to consider the local economic impact of shopping locally. Studies clearly show local businesses put way more back into the local economy than chains, and it is better for the environment to shop locally.
Other ways to show you support (That doesn't cost a thing)
Like their social posts & stories
Share website, socials, sales, products, etc.
Tag the business in product photos; companies love to see!
Comment on posts; this helps their business in the algorithm and allows them to be more visible.
Leave a Google & Facebook review. A review is a HUGE boost for attracting new business!
We've been around for 17 years because of you! Please remember that Small Business Saturday is just one day a year. To have maximum impact, make shopping small a habit. Your community—and the country—will only benefit.