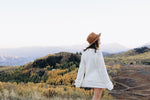 The days are getting shorter, and the nights are getting colder. These two things put together can only signal the transition to fall. Fall's arrival doesn't mean you have to put all your summer clothes away and invest in a whole new wardrobe!
To make transitioning from summer to fall more comfortable, remember our capsule wardrobe tips and keeping your closet filled with staple throughout the year. Year-round staples including a white blouse, a blazer, nice pair of denim, a cashmere sweater, cami, day-to-night dress, and a classic coat. Investment items that you can generally wear mostly every season.
However, one piece of clothing that you might not be ready to give up wearing are your favorite summer dresses. Summer dresses are effortless to transition into fall because they are a great base to layer upon.
How To Transition Summer Dresses To Fall
Flowy dresses and floral patterns will be reliable for fall. This is good news if you own some longer, flowing summer dresses. They're easy to layer and create a modern fall season look here's how:
Add a wide, stretch belt to accentuate the waistline. If your dress already has a wrap or tie detail, you can still add the belt over it.
Wear your longer dress with knee-length boots or your shorter dresses with booties.
Layer with a scarf, lightweight vest, denim jacket or cardigan, depending on how cold it is outside. If adding a scarf, think about using the fall trend patterns of plaid, stripes, dark florals even the timeless leopard print.
As we all transition into fall, Consigning Women is currently accepting your light fall pieces. We are looking for designer denim, boots, booties, cashmere sweaters, and lightweight fall coats. We accept consignments during our regular business hours.
Clothing must be in "ready to wear" condition and items must be checked carefully for cleanliness, freshness, intact seams, buttons, snaps, etc. We accept contemporary styles – most recent (1-2 years), popular, classic pieces, high-end or better-department store labels.