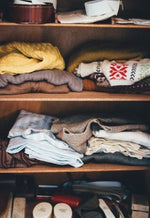 Have you ever stood in front of your closet full of clothes and thought, "I have nothing to wear"?
Over the years, we have heard this statement uttered in every different combination of ways that it could be stated. What we have noticed is that, like all women, we have stocked our closets full of combinations of clothes that we like and feel our best while wearing.
This type of closet could mean ending up with a closet full of t-shirts, jeans, white sweaters, black handbags, and flats. All of your items have the potential to be both timeless and practical. These "practical" items living in your closet are your go-to outfits, and we understand that some mornings when you are getting ready, you could stand in front of it all and feel bored with what's looking back at you.
If this sounds like you on more than one occasion, you should consider coming into the store on the 3rd Saturday of each month for our Saturday Style Series. We are excited to welcome Ashley Roda with Iconic Details on these Saturdays for an afternoon of free personal style consultations from 1 pm-5 pm.  You can find more event information HERE.
A piece of advice that she may offer you as you search to diversify your wardrobe is if you are the type of woman who mostly wears jeans, she may suggest pairing them with more dressy tops and heels instead of always with a t-shirt and flats.
We can assure you that an hour with Ashley will inspire you to go through your closet and try new combinations with the items that you currently have.
If you are also every day fed up and ready to clean out your closets, remember that winter is an excellent time to allow yourself a few hours to sort through your entire wardrobe. Have bins or bags ready to place items into different categories. Things that you can consign/donate, revisit later on in the day, seasonal, damaged, and sentimental.
 When you are cleaning out your closet, keep in mind that we are currently accepting consignment items for spring.