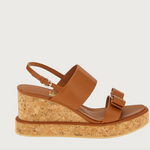 Salvatore Ferragamo is one of the world's most important and best-known "Made in Italy" luxury brands.  It stands for consolidated craftsmanship and creative innovation, two factors of excellence identifying the brand which has developed considerably over the years but is always perfect in keeping with its origins.
Originally founded in 1927 and achieving fame as a shoemaker, Salvatore Ferragamo is now one of the world's leading designers, producers, and distributors of luxury shoes, leather goods, accessories, fragrances, and apparel for men and women.
Salvatore Ferragamo was born in 1898 as the eleventh of 14 children in Bonito, Italy. At the young age of nine years, he found his calling as a shoemaker after making his first pair of shoes for his sisters. Salvatore pursued this passion by studying shoe-making for a year in Naples and opened a small store in his parent's home. He went on to gain experience in the footwear industry, by moving to Boston in 1914 to work at a cowboy boot factory along with his brother.
With all this experience and knowledge in hand, Salvatore and his brothers moved to California, where Hollywood welcomed him and his gorgeous made-to-measure shoes in his 'Hollywood Boot Shop', with open arms. Iconic celebrities of the time donned his hand-crafted shoes, earning him the title 'Shoemaker to the Stars. Ferragamo shoes were a class apart, with designs that had never been imagined before. It ranged from shoes inspired by Egyptian archaeological finds to the famous cork wedge heel — that became the inspiration for the famous Judy Garland shoes.
Salvatore wanted more, he wanted his shoes to always be known not just for their beauty, but also for comfort. So he went on to study anatomy at the University of Southern California to make his shoes not only a treat to the eyes but also bliss for the feet.
When Salvatore moved back to Italy, his brilliant creation, the 'Invisible Sandal' won him the fashion world's highest accolade, the Neiman Marcus award. In 1949, Salvatore moved beyond shoes and went on to create his first handbag to actually hold his tools, but one that was so stylish that it continues to be sported by the fashion-conscious even today!
By 1950, from brainstorming and experimenting with new designs and models in a workshop in the Via Mannelli, the company's business expanded to a workforce of close to 700 craftsmen with a production of about 350 pairs of handmade shoes per day. Innovations followed. Shoes were created that were user-friendly and comfortable. Beautiful scarves with Italian symbols, 18-carat gold sandals and a whole range of new products began adorning the Ferragamo catalogs. Salvatore had a dream, to "dress a woman from toes to the head", and this dream saw fruition through his family — his wife and six children.
Salvatore Ferragamo's passion for fashion gave the world a true artist, making the world a better-looking place. What's heartening is that though the legend is no longer with us, his name and legacy live on in a company that still manages to live up to his genius and high sense of style, through a family that's proving to be deserving descendants of that little nine-year-old boy from Bonito, who went on to become a name to reckon with in the world of fashion!
We often receive the most beautiful Italian leather shoes and handbags by Salvatore Ferragamo as consigned pieces and you can find them available on our website when they arrive.