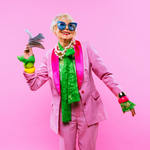 Upon entering the second phase of your life, you may feel like this change is monumental. You are getting older, and wiser, and while you may not be able to do some of the things you previously did, one thing that you don't have to leave behind is fashion! In fact, fashionistas in their fifties have better fashion sense than the youngsters. After all, their outfit comes along with a whole lot of grace, wisdom, and experience, which elevates their look to the next level!
Some people might think that women's fashion over 50 would entail you to dress down, but I always encourage everyone to dress the way they feel. Just because you're an older woman doesn't mean you need to dress that way.
You may feel a little overwhelmed by the thought that you can not wear your favorite mini skirt or denim shorts anymore. We bring joy to inform you that you can still serve some looks in your favorite skirt and shorts if you style them appropriately.
Wardrobe essentials are the grounding pieces we build our wardrobe around. They're the workhorses we reach for again and again to anchor our outfits. Each woman has unique essentials and they will change over time. Today I'm sharing the seven pieces that have stood the test of time and are my summer wardrobe essentials.
Cardigans- Cardigans are a wardrobe staple for the PNW year-round. During the summer the knit gets lighter weight, and there are often no buttons. They're perfect to pop over a summer dress or sleeveless tank on cool evenings or when air conditioners are cranked up. They cover your upper arms without all the bulk and weight of a jacket. I'm fond of linen duster length cardigans which cover a summer dress or tank top and jeans.
Sunglasses- A good pair of sunglasses is important all year, but essential during the summer. We spend more time outdoors and the sun is stronger this time of year so it's essential to protect your eyes.UV rays can lead to macular degeneration which is a leading cause of vision loss for older women. Look for polarized and/or dark lenses which offer more relief from squinting.
Sandals- When the weather heats up there's nothing cooler than sandals. A well-rounded summer wardrobe should include comfy flats with varying levels of formality that take you from the pool to a summer wedding. A nude or metallic summer sandal is the most versatile no matter its style. Espadrille sandals are a fun option as are the new sport sandal.
At Consigning Women we are accepting all of your summer consignments; sandals, sunglasses, accessories, and linen are what we are looking for most.