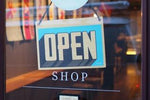 Consigning Women is officially back open, at least for right now. Our top priority is to provide the safest shopping experience for both you, our customers, and our staff.
We want to start; we are beyond grateful to be in a position to weather our new way of living, safely, and in compliance. Additionally, we are very thankful to all of YOU for sticking with us. We're here for you and appreciate your ongoing business.
While we are open, we have altered our hours. We will be open Thursday through Sunday 11 am - 5 pm.
As of right now, we are offering shopping without an appointment. To be able to provide appointment-free shopping, we have added some safety protocols that comply with OHA to help everyone feel safe.
Shopping COVID Safe 
All staff will be wearing protective masks and gloves.
Hand sanitizer and gloves will be available for all customers and consignors.
All surfaces are continually being sanitized.
All items that have been tried on will be sanitized overnight, utilizing our ozone-generator technology.
Shopper occupancy will be monitored to ensure proper social distancing compliance. If the store is at its occupancy, you may be asked to wait outside until someone leaves.
Please do not bring personal reusable bags. We will provide paper bags at no charge. 
Consigning COVID Safe 
We know that you all have been busy organizing your closets and have items you would like to consign with us. At this time, we are asking you to call the store to set up an appointment for us to look through your clothing.
Consignor appointments will be available on Thursdays thru Sundays during our store hours. If you have questions or concerns, please feel free to call us anytime 503-697-1636.
We can't wait to see each of you in person and help you find new pieces to add to your summer wardrobe.