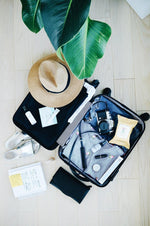 It's that time of year, school is out, and the family vacations are about to happen. Are you a chronic over-packer of your suitcase? Are you about to embark on a 7-day beach vacation but you have 20 different outfits that you probably will not wear? With more and more travelers forfeiting checking luggage and instead, packing a weeks vacation worth of clothing into a carryon.
The only way to successfully achieve a perfectly packed carryon is to be strategic and pack a vacation sized capsule wardrobe. We are going to discuss a few pieces that need to be in your summer vacation capsule wardrobe. We tend to overpack because we think of things such as "What if the temperature drops halfway through the trip? What if we decide to go out to a very formal dinner?" The tips I am about to share cover all of these scenarios. It's beneficial to begin by thinking of a color palette for your trip and stick to it. This palette will ultimately depend on where exactly it is that you are going, but you can never go wrong with summer neutrals of white, light blue and gray.
Also, when you are packing consider how items can stand alone and work together. For example, a button-up blouse is a good option for when the sun goes down to slip over your tank un-buttoned as a makeshift jacket, a button-down can also step in as a bathing suit cover-up or be French tucked into a pair of shorts. A good pair of shorts is a must for any summer vacation, choose a pair that makes you feel amazing and that have the option to be dressed up or dressed down depending on the type of top you pair them with. A solid color lightweight sweater. This is a great staple because during the day it can be tied around your waist when you are outside and put on when you enter an air-conditioned location or to be used when the sun goes down, and the temperatures dip. Dark denim jeans are a must all year round and should not be left home on a summer vacation. Dark denim is versatile enough also to be dressed up or dressed down. White denim pants are a summertime staple. This type of denim has endless possibilities of being paired with a solid colored tank or a striped t-shirt. Also layering with your lightweight utility jacket creates yet another look. Typically we are big supporters of a denim jacket; however, with the shorts, white denim, and dark denim pants it will begin to be too much denim on denim.
A dress is always a must for vacation. You will have to make the decision on this if you want a knee-length or a maxi dress. Our suggestion would be that whatever the length choice that the dress is a solid color or a simple print in the color palette that you are choosing. Remember a dress can double as a bathing suit cover-up as well. If you only have room for one pair of shoes in your bag, we recommend a nude suede 1" heel sandal and wearing a pair of sneakers on the plane. The nude suede heel is versatile enough to dress up your denim and casual enough to wear with your shorts. Keep in mind to get all of these pieces into your carry on they will need to be neatly folded in a row so you are able to see every piece of clothing you have brought with you. Try not to pack on top of each other because that is a waste of space and you won't be able to see all of the options that you have. We also recommend that you pack a collapsible sun hat, sunglasses and plenty of sunscreen for your summer vacation.
At Consigning Women, we are filled with summer vacation capsule wardrobe must-haves. Stop in to see all of the new seasonal inventory and for any help making this summers vacation a fashionable and perfectly packed one.