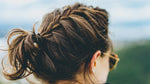 We've all heard the saying that when we dress our best, we feel our best. We've even experienced moments when we've worn something that made us feel incredibly confident, that we feel like we could take on the world. All of these sayings are not things that are just in your head, it's a fact that when you know you look good, you feel good about yourself.
On those days, you've probably even checked yourself out in the reflection when you've walked by a storefront window. We have all gotten into that rut of wearing the same leggings and sweater every day with a permanent messy bun. We've added only the most minimal amount of makeup that needs to be worn for a stop at the neighborhood grocery store where you aren't totally embarrassed to be seen in your two days in a row legging and sweater combination. Dressing this way, as comfortable as it is, for extended periods, really can really begin to take a toll on your overall self-esteem.
When our self-esteem is feeling depleted, then we begin the negative self-talk thoughts such as "I'm not good at this…" "I feel so fat." You know what the negative self-talk cycle is. If you feel that you are currently a part of this negative self-talk cycle, wash that messy bun, blow dry and style your hair, dress in something other than leggings and a sweater, add a necklace or earrings, put on mascara or lipstick and take yourself out. Take yourself out for a coffee, or if you have to run errands, run your errands in this outfit. It doesn't matter where you go, but you need to leave your house and strut your stuff. To clarify, this outfit does not need to be a fancy dressed up outfit, this could be the jeans that make you feel amazing and a t-shirt, but it needs to be something different than your standard daily "uniform" it needs to be something that makes you feel like you're trying. The point of this exercise isn't to get validation from anyone. The point is to put the pep back into your step.
It is time for you to feel good about you. Plus after one outing of putting your best foot forward, you might find yourself reaching for your favorite jeans and lipstick more often. If it makes you feel fantastic, there is nothing wrong with that! As obtuse as it sounds, what you wear really helps dictate your mood. When you begin wearing pieces that make you feel your best again, you will start to notice a transformation in your life. The negative self-talk will start to quiet, positive changes in the day to day, your career, and even how you show up in the world will begin happening. Focusing on the outside is not the cure for overall and long term happiness, but it does help you begin to get your confidence back and maintain the self-esteem you've been creating. And self-confidence is the real beginning of long term happiness.