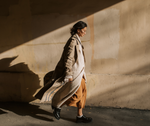 There's something about late January and February in the Pacific Northwest.  It's been raining for months and we've seen the sun maybe a handful of times since the fall.  But all of the winter rain prepares us for the influx of the beauty that is spring in the Pacific Northwest.  We're over here daydreaming about the pink cherry blossoms along the waterfront and the petals that decorate the sidewalks. 
While we might be singing spring praises because we are so ready for something besides rain, spring in the Pacific Northwest can be very tricky to dress for. Our inspiration for our spring 2023 capsule wardrobe is neutrals with some romantic whimsy details because it is spring, after all, the time of year, perfect for romance. 
Sandy beiges, creamy whites, and sun-bleached blues are big in our  Spring capsule wardrobe inspiration. In terms of style, our minds are drifting to bygone eras- Romantic frills, puffed sleeves, and white eyelet lace harken to a whimsical escape. In terms of materials, we envision lots of natural fabrics, mostly linen, silk, and cotton.
We also think that a taupe trench coat is super romantic and reminiscent of all the 90s rom-com characters. We are very into the lines of a flowing trenchcoat, like business but make it romantic. A trench is definitely a spring essential for the Pacific Northwest. 
And since the pandemic, we have also become pros at dressing up loungewear so let's all be sure to mix those concepts into our capsule wardrobes. 
When our minds start wandering toward all things spring, it must also mean that our Superbowl Sale is right around the corner. 
Every February, on Superbowl Sunday since we opened, we have hosted a Super Bowl sale where everything in the store (excluding clearance items) is 25% off!
At Consigning Women, we only have a few signature sales a year to help you get the best prices on designer fashion, and the Super Bowl Sale is one of our signature sales.  We will be open 11-5 on Super Bowl Sunday, February 12th, just in time to purchase your Valentine's Day outfit. 
Also, February 1st is when we begin to accept spring consignments.  We know that what many people do during January is clean out their closets and start thinking about what to do with the clothing that no longer fits or they no longer love.  The good news is that we are ready for it if you have taken the proper care of that designer clothing.
Some spring items that we are looking for:
Designer Denim
Designer Handbags
Designer Accessories
Lightweight Jackets
Resort Wear
Shoes
Please email or call the store @ 503-697-1636 to reserve your consigning appointment.