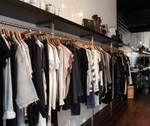 Achieve haute couture without breaking the bank! Make some serious dough while you're at it! Consigning designer clothes can keep your wallet full and elevate your wardrobe with the latest fashion trends. Ready to up your style game, cash in, and keep looking fab? Read on to discover why to Consign designer clothes with Consigning Women.
Consigning designer clothes can be an excellent way for women to stay fashionable without breaking the bank. By consigning their gently used clothing, women can pass along items from their wardrobes that they no longer need or wear and make some extra money. In addition, consignment stores often feature high-end designer pieces at a fraction of their original cost. Consigning allows customers to find quality fashion pieces at prices they can afford.
Consignment stores also offer an eco-friendly alternative when shopping for new clothes. They help reduce waste and keep unwanted garments out of landfills. Shopping through consignments also helps support small businesses that rely on selling secondhand clothing and provide employment opportunities within local communities. Consigned designer clothing provides ultimate savings and environmental benefits that benefit everyone involved!
Consignment stores can be an excellent source for women looking to add high-quality designer pieces to their wardrobes. With the right eye and knowledge of current fashion trends, a savvy shopper can find unique items at great prices. At Consigning Women, you can find luxury brands like Gucci and Louis Vuitton to lesser-known sustainable labels; quality clothing is waiting in consignment stores nationwide.
Shopping for preloved designer clothes offers numerous advantages over buying new ones: it's more cost-effective; supports sustainable fashion; provides access to pieces that may have otherwise been out of reach financially or geographically; and encourages creativity with styling combinations that might not have been considered when shopping retail options.
Additionally, you can purchase designer items with confidence, knowing they are authentic - at Consigning Women, we take extra care in authenticating any item before putting them up for sale - giving peace of mind along with your new piece!
Tips for Making the Most Out of Your Wardrobe
An organized wardrobe is vital to making the most of your fashion choices. By consigning designer clothing, women can create a stylish, personalized collection that fits their lifestyle and budget. Consignment stores offer access to quality apparel at lower prices than buying new items outright. This makes it easier for women to keep up with the latest fashion trends without breaking their budgets.
Additionally, consigning allows for more sustainable shopping habits by reducing waste and promoting circular economy principles like reusing and recycling clothing items instead of buying something new every season or trend cycle. Women can also extend the lifespan of their favorite pieces by trading them in when they no longer love them instead of discarding them into landfills or donating them away without getting anything in return. 
With high-end consignment stores as reliable options, there are more ways than ever for women to make smart decisions about what they put on their backs while still looking fabulous at all times!
If you are feeling the urge to purge your closet- consider Consigning Women to consign your designer pieces. Contact Us for more information.