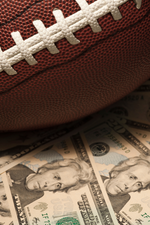 Every February on Superbowl Sunday since we opened, we have hosted a Super Bowl sale where everything in the store (excluding clearance items) is 25% off!
At Consigning Women, we only have a few signature sales a year to help you get the best prices on designer fashion, and the Super Bowl Sale is one of our signature sales.  We will be open 11-5 on Super Bowl Sunday, February 13th, the day before Valentine's Day.
Also, February 1st is when we begin to accept spring consignments.  We know that what many people do during January is clean out their closets and start thinking about what to do with the clothing that no longer fits or you no longer love.  The good news is that if you have taken the proper care of that designer clothing, we are ready for it.
Some spring items that we are looking for:
Designer Denim
Designer Handbags
Designer Accessories
Lightweight Jackets
Resort Wear
Shoes
Please email or call the store @ 503-697-1636 to reserve your consigning appointment.