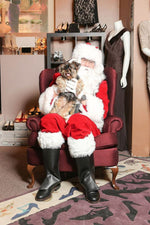 At Consigning Women we enjoy giving back to our community through different fundraisers throughout the year but the Pet Pics For Pongo is one of our favorite events of the year.
Our pets are an extension of our families and we know how important it is to have their photos with Santa as well. You win by getting a new photo of your pup with Santa and the Pongo Fund wins with more donations to help them fight animal hunger.
The Pongo Fund does the work like it's never been done before, by providing high quality food and lifesaving veterinary care for the family pets of our community's most vulnerable. They work tirelessly to reduce shelter populations and keep families together by protecting beloved family pets from suffering, starvation, surrender, abandonment or worse, when a lack of food or medical care, but not a lack of love, is their only enemy.
The animals that they help are the animals of proud seniors, brave Veterans, the victimized, the marginalized, the unemployed, the disabled, the mentally ill, the hungry, the hurting, the homeless, and good people facing the toughest of times. That's what The Pongo Fund does.
Because unfortunately hungry people have hungry pets.
Professional Portland photographer Tony Goiburn will be on hand to capture these precious moments! Healthy snacks for your pet, and goodies for pet parents, will be provided by It's All Gouda!
We will be following CDC guidelines for social-distancing to keep everyone safe, and yes, masks are still required!
A suggested donation of $10 will go to The Pongo Fund (www.thepongofund.org), a local Portland charity that provides food and supplies to pets of folks in need.
The most exciting part is that EVERY donation will be matched by a generous donor!
You can run two errands at the same time, have your pups photo with Santa and bring us a bag or two of winter clothes to potentially consign. Call 503.697.1636 for more information and to register for a photo time.
This time of year we all can use a little extra help, expecilly our four legged friends who give us their unconditional love every day.