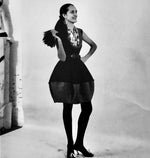 As we approach breast cancer awareness month in October, I wanted to take a moment and pay tribute to a designer that I have always admired, Isabel Toledo.
Isabel Toledo, the Cuban designer beloved by celebrities and her fellow fashion confidants, passed away from breast cancer this past August.
You may remember Toledo as the designer of the bold green wool lace shift dress and matching coat that Michelle Obama wore to her husband's inauguration in 2009. For most of her career, Isabel was known as a "designer's designer," having spent time at the Fashion Institute of Technology and Parsons School of Design. In 1985, she showed her first collection and immediately gained the support of Fiorucci and Bergdorf Goodman. It was not until the inauguration did her name become more well known outside of New York.
Toledo positioned to set herself apart for the world of fast fashion, focusing on timeless designs and well-manufactured pieces that would age gracefully.  She would often say "I am a forever kind of gal." Meaning she knew that the fashion industry needed to figure out how to be more sustainable for the planet while still offering clothing that people could afford and would last them a long time.  Isabel's designs were able to find a wider audience through her work with Anne Klein and Lane Bryant.
She is most well known for her collections for Lane Bryant, which were created at a time when the fashion world still largely ignored the plus-size consumer.
"Fashion is every woman's language, every woman's tool," she told Interview magazine in 2014 when her Lane Bryant collections made their debut. "My ideal happens to be diversity. I love the difference. I love change. I love experimentation and eccentricities."