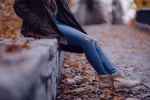 September might be half over and we might have already received our first dose of "false fall" here in the Portland Metro area but there is still plenty of time to participate in "Second Hand September".
 "Second Hand September" was created by Oxfam International the UK based non-profit that uses a combination of rights-based sustainable development programs, public education, campaigns, advocacy, and humanitarian assistance in disasters and conflicts.
Every week 11 million items of clothing end up in a landfill. This is equivalent to the weight of the Empire State Building.  Throwaway or fast-fashion is putting increasing pressure on our planet and its people - it's unsustainable. The purpose of #SecondHandSeptember is bring global awareness to this issue and to begin visiting your local consignment or thrift store to update your wardrobe instead of going out and buying new things from those big-name fast fashion stores.
However, being a conscious shopper and thinking about the planet shouldn't be limited to just one month; for real change mindsets on fashion need to shift. Real environmental impact is all about changing your mindset and staying clear of fast-fashion for the long term.  A few weeks though is the perfect amount of time to create a new mindset and set a new fashion shopping habit for yourself.
The good news is there are ways to lower your impact on the environment by shopping second-hand for your clothing. Here's how to make the change beyond the month of September. 
Make the most of your wardrobe by creating a capsule
Gone are the days where an outfit repeat would be a fashion faux pas. With even the most stylish women documenting how they rework their wardrobes, there's no excuse for us to not make the most of all the clothes we have already. 
This can be achieved by having well made, and time tested staples in your capsule wardrobe that are able to transition through the seasons and still function.
Shop Second-Hand or Vintage
Shopping second-hand does not limit you to your community local charity thrift stores. Second-hand shopping also means making purchases at your local consignment and/or vintage stores.
Both of these are excellent options because their inventory has been carefully curated with you, their customers in mind.
Rent The Runway
When you are unable to find that extra special piece that you have been looking for at your local consignment or thrift store, consider one of the rent the runway services.  If you are in search of a piece that will not find a permanent home in your capsule wardrobe this is a great alternative in helping your fashion sustainability.
The idea behind Second Hand September feels simple: rather than contributing to fast fashion consumption, which quickly ends up in landfills, contributing to the ongoing destruction of the planet, it is developing an awareness of realizing where your clothes go when you've outgrown them or when that three dollar t-shirt falls apart. In a social media world full of fashion influencers that are trying to get you to click their personalized link to purchase their fast fashion outfit, consider saving the post as inspiration instead when you are on your next consignment shopping adventure.
Remember, personal style is about how you present your clothes, how you rework them to express individuality. It is about buying special items that last a lifetime and curating outfits. It doesn't always have to mean new.
We have been getting in so many fabulous fall pieces lately and are still currently looking for fall pieces.  Consider finishing out the month by dressing #secondhandseptember.