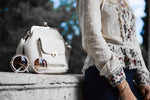 Let's talk about fashion over 40. Keep in mind one crucial thing: NO MATTER how old you are, Consigning Women helps you age with style. Fashion should be fun, and it does that when you feel comfortable and confident.
It's no secret, our bodies change once we hit the age of 40. Our bodies physiologically change. Our hormones shift, and we begin to notice things from thinning hair, duller skin, and a slower metabolism. When these biological life events start to happen, it can shake our self-confidence and make us begin to wonder what exactly we are supposed to wear now that we might not even be comfortable in our skin.
We believe in dressing to your strengths and taking your body into account, so if you like, we have five guidelines on how to wear after 40:
Do not buy clothes that do not flatter you, even if it's the trends this season.
To accomplish this, it's essential to know your body type and show off your features that you are most confident about, like your legs, bust, or arms.
Do not mix a tight skirt or pants with a tight top.
Aim to have either a tight skirt with a loser top or vice versa.
Wear jeans but make sure they fit well. Also, if you enjoy the ripped jean trend but are over 40, be conscious of how ripped your jeans are.
Shapewear is your new best friend. After 40 women's metabolisms begin to slow down, and where we carry weight begins to shift. Investing in the best possible bra and shapewear to give your body the right structure can help your confidence. If you find shapewear too uncomfortable, use slips or pants with pipes to hide panty lines and reduce unflattering bulges.
Pay attention to shoes. Supporting those arches is now more critical than ever.
Age is a state of mind, but your style is timeless. Shopping after 40 will take a bit longer because you will most definitely want to try on the pieces that you find. Luckily for you, at Consigning Women we are here to help you find pieces and teach you how to style them in a way that will leave you feeling confident and ready to take on anything.  Call us for a free appointment with our in-house stylist – 503-697-1697