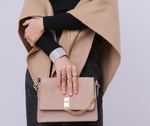 As the calendar gets closer to the end of August and ticks toward Labor Day, we begin to get excited for all things fall. From all the pumpkin spice flavored and scented items to swapping out our sandals for our boots.
We will discuss some of the fall 2021 trends that we have been seeing and can't wait for the weather to cool down so we can start putting them into our wardrobe.
Leopard Coats
Hang onto your leopard coats because this animal print favorite was on many a runway for Fall 2021. Who needs an essential black jacket when you can liven things up with an equally neutral leopard print? From an ankle-length and black-leather-belted coat to a car coat over a full skirt, there is a leopard print coat style for everyone for fall.
Head to Toe Denim
I know most of us remember when this trend was passe; however, denim on denim has arrived, and yes, the denim tuxedo is in for 2021. Designers showed head-to-toe denim in classic blue shades that give you a pulled-together yet casual look. From conservative blue denim fitted jacket and matching pants at Hermes to casual denim jumpsuits at Alberta Ferretti and Victoria Beckham, all denim looks or denim is worn as a base under a coat can be your new uniform.
Capes
Capes took on many forms in the fall runway shows, from dressy to casual. We are so used to being at home wrapped up in a blanket, and the designers are moving us out to the street and offering us the same comfort. Wrap yourself in the cape trend in the fall window we have before the rain starts to ramp up for Fall 2021.
Knit Dresses (And Skirts)
One of Covids prompted fashion trends, knit dresses. Think of these as the maxi dress of fall, long-sleeved, longer hem can wear over leggings or bare legged with boots.  The knit dress is really like wearing put-together fancy pajamas to pick up your takeout order.
Belt It
The wide belt trend is not going anywhere and with all of the oversized dresses this trend particularly hits home for those of us over 40 who feel like the oversized look ages us more years than we are.
We began accepting fall consignments on August 1st; consider this your reminder to start making space in your closets with the fall items you didn't wear last fall.
There is still ample summer left, and we have plenty of summer fashion still in stock. Shop online or stop in; we are open seven days a week from 11 am-5 pm in Lake Oswego.