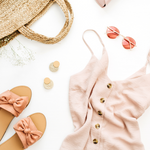 When we hear in the weather report that the predicted temperatures will be extreme, as in around 90. Here in the Pacific Northwest, we do a few things; we head to the water. Pacific Northwesterners head to either the coast or a river for a day trip to beat the temperatures or attempt to book a weekend somewhere close to water.
For those of us, though, who aren't fortunate enough to get a room at the coast for the entire heatwave, we have to dress in a different way to keep ourselves comfortable.
Here are a few of our tips for dressing for the extreme heat when it comes to the Pacific Northwest:
Bring out your most airy maxi dress
Most maxi dresses fit somewhat loosely, which helps with overall airflow. They also won't stick to your skin, so you can stay comfortable as you rush from the office to an appointment, or more realistically—to happy hour.
Stay away from colors and fabrics that show sweat
Leave the colors that often show sweat in your closet, like light pink or gray. White is an optimal choice, and a print or pattern is good alternatives. Avoid fabrics that quickly show sweat like silk. Lightweight cotton or linen should be your first choice.
Never underestimate the need for a good pair of shorts
When the heatwave rolls around, the last thing you want to do is decide what to wear when you're in a rush. That's when we turn to our favorite pair of trusty shorts. A comfortable pair of distressed boyfriend denim or khaki shorts will always beat the heat.
Choose a lightweight and breathable material
Lightweight, cotton, and linen should be a few extreme heat staples added to your capsule wardrobe. One trend that we love for extreme summer heat is a cotton dress with cut-outs in the back. It's an easy decision for a stylish yet breezy summer outfit, and the cut of the dress will likely keep you cool until you can get back in front of your air conditioner.
There's still a great inventory of summer items at Consigning Women . . . be sure to check it out in person, 11-5 7 days a week!