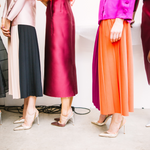 Regardless of what year you came into this world, we can all learn a thing or two about style from our wiser fashion counterparts. With the current trends leaning toward their 90's predecessors we thought it would be a good idea to chat about some fashion "mistakes" and what we have learned.
These are the women who have lived to see generations worth of trends come and go and have spent most of their lifetime honing in on what they can now claim as a strong sense of personal style.
Mistake: Only Wearing One Bold Color or Print at a Time
Color blocking and mixing prints can elevate your look. A word from the wise, start small and work your way to mixing bigger and bolder patterns.
Mistake: Only Shopping in the Women's Section
Dare to take a step into the menswear section for those oversize sweaters and button-downs for a relaxed and slouchy look. Or in the woman's section size up for an oversize look but to never downsize.
Mistake: Wearing Heavy Pierced Earrings All the Time
Wearing heavily pierced earrings over time, it stretches your earlobe and ultimately you can't wear any pierced earrings unless you have your ear surgically fixed. A solution is clip-ons, and opens up a whole new world of fabulous and very dramatic earrings for me.
Mistake: Wearing Something That Doesn't Feel 100% Like You
If you do not feel 100% yourself in the clothing as much as you stare at it lovingly, if you don't feel good in it, don't wear it.
Mistake: Wearing Clothes That Don't Fit Properly
Find what fits your silhouette and continue wearing those styles.
What advice do you have for fashion "mistakes" and what you've learned from them?