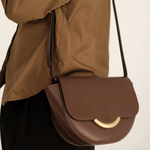 Neutrals are clearly a timeless and versatile wardrobe base to build upon. In this post, we are sharing a few ways of styling neutrals for late summer so they don't look plain or boring for those of us over 40.
Pair Light and Dark Neutrals
A clothing color doesn't have to be light to be considered neutral, and you can certainly wear dark neutrals in summer. Dark neutrals include charcoal, chocolate, rust, navy, burgundy, olive, and black. Mixing light and dark neutrals are always a classic and polished combo.
Pop some color
Wearing a lot of colors isn't really my thing, but I like to bring in splashes here and there, and a neutral palette is a perfect backdrop to make that one item stand out and compliment your whole look. Think about adding color with silk or lightweight scarves.
Add texture to your neutrals
Another way to keep a neutral outfit from appearing boring or plain is to add texture. Look for pieces with statement materials like straw, linen, neutral patterns, or lace, and pair them with softer fabrics like cotton, lightweight denim, or silk.
Do a monochromatic look
A monochromatic palette is timeless. Consider wearing slightly different hues of the same color (like white, ivory, beige, or off-white) for a classy and sophisticated look. One thing to remember when pairing neutrals is to be sure that they have the same undertones (warm with warm and cool with cool).
If you are creating a capsule wardrobe neutrals are the perfect addition to your summer and early fall capsule wardrobe.  At Consigning Women we are currently accepting your fall consignments, denim, and designer handbags.