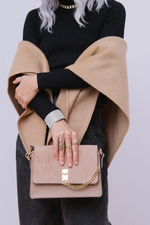 We are highlighting October trends for women over 50, and we want to preface with, pay no attention to the old wives tale that if you wore something before, you shouldn't wear it again.
Clogs
We know that you wore them before; maybe you remember wearing them in the 70s or again in the late 90s, or perhaps you never stopped. The most on-trend clogs right now are the true throwback wooden clogs. Pair them with wide-leg or ankle jeans, and you'll be in step this fall.
Relaxed Fit Blazers
Blazers have been trending as a statement piece in a woman's wardrobe for a couple of years in a row now. We love blazers, and we hope they never go out of style. We believe you can wear whatever you want and always be in style; the most current blazer silhouette is relaxed. Some are boxy; others are slightly tailored but still oversized and fuller. The trick is that the more relaxed your blazer is, the more current you will look. We believe this trend is one of the most wearables for women over 50 because many of us already love wearing them, and they look classy and elevated. Pair your favorite relaxed blazer with a simple tee and straight-leg jeans for optimal style.
Say Hey To Plaids
We've seen plaid pants trending, and it's OK if you are not feeling comfy wearing plaid pants!
If you don't want to wear plaid pants, you can wear a plaid blazer, a scarf, or even boots. They will become your favorite pieces because they look so stylish and trending big time.
I think it's unnecessary to say but style your plaid with basic pieces.
Since plaid is a busy print, you don't need anything more to bring attention away from its pop of plaid.
It's always the best idea to wear only one print in a look, whether a floral, animal, or plaid pattern.
50 Shades of Brown
The fact that brown pairs gorgeous with Autumn months are apparent. I can even say it's the primary color of the season.
But that's not the only reason why we mentioned it in fall essentials.
There are so many things available in brown color. They look so chic and fashionable. It is the most neutral color, so it's perfect for any age.
The most common things you can try are coats, cardigans, pants, and even blazers or shoes. They are so easy to style with many things already in your wardrobe.
Accessories
Whether it's fall or winter, whether you are over 40 or 50, we 100% believe in accessorizing your outfits. Because without it, they are just simple, and they look incomplete.
When talking about fall essentials for women over 40, we have to admit scarves are the most needed ones.
We also can't forget to mention handbags, especially designer handbags.  We're always looking for great handbags, and right now in-season, high-quality, and classic styles, especially fall transition pieces.  Call us today to make your consignment appointment (503-697-1636) - we're open 7 days a week!