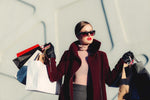 Consignment shopping is a great way to buy high-end clothing and accessories below retail prices. Your money can go further by purchasing second hand, at Consigning Women we sell only high-quality garments made to last, at resale prices. The flip side to this, however, is to consider your purchases, because there are a few things that should be avoided when shopping second hand.
Buy for now, not later. Steer clear of buying cocktail dresses for a hypothetical wedding or sun hats for an unplanned beach vacation. Consignment stores have such an ever-changing and unique inventory that those types of items will still likely be available when you need them.
Avoid buying clothes in smaller sizes, thinking you'll lose weight and wear them later. Before heading off to the consignment store, inventory your closet and keep your mental list or physical list of items that you are looking for up to date in the notes on your phone. Make mental notes to look for those items in the size you are at that time.
Buy for yourself, not for others. Resist the urge to buy for friends and family members when they are not with you even if that jacket is only $20 and (probably) your friend's size and (you think) her style.
Invest in Designer Bags only from reputable second-hand sources. Designer bags are an investment, and with counterfeits as well made as they are today, it's not only crucial for you to have an understanding of what you're looking for to authenticate but also trust that the store you are in also knows more than you on how to verify.
Leave the socks and undergarments as items that you purchase new. Studies have shown that these pieces are ok to buy second hand, that you will not get an STI from previously worn undergarments. However, we here at Consigning Women fully support you purchasing brand new undergarments that are genuinely your own.
Remember, personal style is about how you present your clothes, how you rework them to express individuality. It is about buying special items that last a lifetime and curating outfits. At Consigning Women we are here to help you find pieces and teach you how to style them in a way that will leave you feeling confident and ready to take on anything.  Call us for a free appointment with our in-house stylist – 503-697-1697