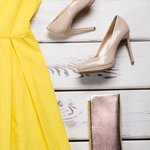 In every wardrobe, there are a few key pieces from which you can build upon. Without them, you lack a solid foundation to mix and match, so you don't fall victim to fast fashion and nonstop shopping. Outside of the obvious—we've rounded up five summer essentials to build the wardrobe foundation that can also transition you to fall.
A Basic White T-shirt
Why so versatile?
Tucked into skirts, paired with denim or shorts, or layered over a fun printed pant, a great fitting white t-shirt is a Pacific Northwest summer layering essential.
The Button-Down
Why so versatile?
A well-fitting button-down is a fantastic option, not only as a stand-alone piece but also for adding light layers and visual interest to an outfit. Want to try the crop top trend without showing belly? Keep the ends of the button down unbuttoned and tie in the front.
A lightweight jacket
Why so versatile?
While we're all for tank tops, having a lightweight jacket is a must—especially when you need shoulder coverage on chilly summer nights and transitioning into fall. Consider wearing a fun color that pops against neutrals.
The Cotton Dress
Why so versatile?
Lightweight, breathable, and worn dressed up or down—opt for a dress in a fun pattern or print a cotton dress worn with both flats or a wedge heel. The cotton dress is a great layering piece for the fluctuating temperatures of fall that will be coming before we know it.
Leather Sandals
Why so versatile?
In the summer, it's all about enjoying the beautiful weather! While we love a great pair of heels or boots, we want to be sure footwear still looks cute and works with various outfits—especially running around outdoors. Leather sandals are timeless and a great transition piece into those September days.
We are still accepting summer consignments but will begin accepting fall consignments on August 1st – give us a call to schedule your appointment now!