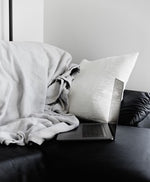 We are so far into social distancing and working from home that people are putting on jeans to go to the gas station these days.  While working from home, it can be easy to fall into the yoga pants or leggings on the bottom and a nice shirt on top. Let's remember that how we dress navigates how we feel about ourselves for the day.
You can still dress as comfortably as if you were in loungewear and always be Zoom ready should you be caught off-guard by a call.
Example one: Leggings, fitted t-shirt, long cardigan, necklace, earrings, and slippers.
The leggings and cardigan are a definitive work from a home outfit for so many people, but by accessorizing with a necklace and earrings during hours when you could be surprised by a video call request keeps you looking professional.
Example two: Leggings, Button-Up, earrings, and slippers
This outfit is essentially the same as before, except you are swapping out the fitted t-shirt and cardigan for a button-up.
Example three: Dress, earrings, necklace, slippers
A dress is an outfit to consider wearing when you know that you have multiple video calls scheduled for the day.  Wearing a dress that you know you look good and feel useful in can help you feel "ready" to interact with people.  If the part of your home that you have designated as your "office" is mostly white or neutrals, consider wearing pops of color to help on the video calls.
Example 4: Cardigan, t-shirt, earrings, jeans, slippers
Some of us miss jeans and working from home; you can still wear jeans, just super comfy ones that do not cut off the circulation to your lower half.  Denim with stretch and good recovery time from sitting for hours on end is a great piece to have in your capsule wardrobe.
Example 5: Loungewear
By far, the most popular outfit when there isn't an inclining that you could be video called is loungewear. However, wearing this type of work from home outfit every day, you could begin to notice your motivation and activity level decrease. We have heard from customers that when they wear loungewear for so many days in a row, they do not feel professional.
We've added slippers to almost every post because we know that wearing booties or boots in the house doesn't seem comfortable. However, most of these work from home outfits only require a quick shoe change to be ready to run to the market or pick up take out.
At Consigning Women, we are currently accepting all fall items, booties, boots, sweaters, and of course, pants to wear while working from home.