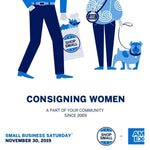 November marks our 16th anniversary, our actual anniversary is on Small Business Saturday this year which makes it even more special.  We have plenty of events and specials lined up for the rest of the month and into December. But let's start out with what Small Business Saturday is and how green it is to shop on this day.
What is Small Business Saturday?
Small Business Saturday and the Shop Small Movement were launched by American Express ten years ago. The purpose behind this day was to help ensure the survival of small, brick-and-mortar and online businesses across America by driving customers into independently owned stores, restaurants, spas, and other facilities during the holiday shopping rush. This initiative matters because the local economy is just as important as the countries' economy. 
Does shopping small really make a difference?
As the holidays approach, there is little doubt that you'll be spending money. Money on gifts, groceries, and pieces of clothing to wear at holiday events.  Where and how you spend your money speaks in ways that you otherwise couldn't. Whether your budget is large, small, or somewhere in between, Small Business Saturday provides you with an opportunity to support your local merchants. These are the community members who hire people in your community, providing them with the wages that keep families and the neighborhoods you love healthy.  The momentum behind Small Business Saturday has provided a lifeline not only to the businesses you shop at and purchase from but also to the businesses that they work with behind the scenes. These include printers, painters, marketing firms, advertising agencies, and more. Shopping small helps keep your community intact and thriving.
How is shopping Consigning Women Small Business Saturday Also Green?
By shopping locally in your community you are lessening your carbon footprint by driving less than you might need to travel to purchase something at a big box store when you could purchase it miles closer from one of your local businesses.  By shopping at Consigning Women specifically on Small Business Saturday or any day of the year you are doing your part in being green.  Purchasing designer clothing second hand is great for the environment in so many different ways. It uses less water, it keeps clothing out of landfills and it keeps a little extra green in your wallet by purchasing high-end designer pieces at second-hand prices.
Stop by and shop our Anniversary Sale happening November 30th - December 1st.  And remember that Small Business Saturday is just one day a year. To have maximum impact, make shopping small a habit. Your community—and the country—will only benefit.