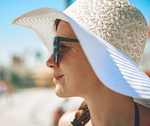 We have officially made it into the dog days of summer! It seems that as soon as the 4th of July passes, a switch is flipped for it to be summer in the PNW automatically.  With our newfound seasonal sunshine, we wanted to talk about summer hat and bag combinations today.
If you have been in the store, you know that we love it best when a piece of fashion is also functional.  Enter the sun hat.
Wearing a hat while in the sun helps protect your skin and hair; it also is like having a little slice of shade with you wherever you go.  Here are a few tips when deciding what type of hat to adorn while you are at the coast, on the river, or walking through a farmers market.
Wide Brim Hat:  The wide brim hat is an excellent choice when exploring a neighborhood or farmers' market. If you burn easily, pick the biggest brim you can find. It means you can be a lot lazier with sunscreen on your face, which is nice when you just want to get outside. One word of caution, if you can see through the hat, there is still a chance of sun exposure. When choosing a straw style of a wide brim hat, ensure that the weaving is extra tight if you are very concerned about the sun hitting your face.
Can it fly: If you are looking for a fashionable hat for the river or hiking, make sure you ask yourself if this hat can "fly"?  If you are hit with a gust of wind, will your hat take off for a new adventure without you?  If your hat is going to be actively used, you may want to make sure that your hat has a necktie or drawstring so your hat will not be flying off your head.
Is it Packable: This advice is for those who like to travel and make sure that your sun hat is travel friendly.  This is where you will need to decide how important is it that your sun hat can fold and maintain its shape when you get to your final sunny destination via an airplane or an overnight bag?
Here are a few of our tricks for traveling with your hats:
One: hat clips are fantastic for hanging them off your backpack or bag.
Two: hat boxes are also pretty nifty if you've got room in your luggage (they can also serve as an excellent place to store little trinkets while traveling, too).
Three: stack them, fill them, and create a cocoon in your suitcase with socks, shirts, and other soft materials.
This time of year, we have quite a few varieties of sun hats in stock at Consigning Women; keep these tips in mind when searching for the perfect summer hat to fit into your life.
Choose a wide brim to give you the best protection
Make sure your hat covers not only your face but also the back of your neck
Choose a color that will go with many items – a natural straw is an excellent option as it goes with everything.