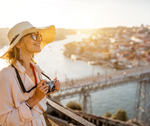 Some of us might be rusty at packing for a multi-day vacation with more than two hours of travel involved. Can we overpack for an overnight or weekend away in less than ten minutes? Of course, we can. We may pull our suitcase out of the closet in the next few weeks for our first flight in over a year, and packing it may seem like a foreign concept.
There's also the matter of the travel outfit itself, a look that shouldn't merely be an afterthought compared to everything else you're bringing on vacation. After all, you'll be wearing it for an extended period and may even want something you can wear for your first activities the moment you arrive.
Whether you're leaving for a two-hour flight or a 20-hour road trip, travel outfits should tick all the boxes: they're comfortable, affordable, stylish, practical, and complement the rest of what you're bringing for your final destination. This means staples you can break up and style into separate outfits later, light layers that work for that high airflow airplane neighbor, and post-sunset beach strolls alike.
Three of our favorite stylish travel outfits work with the staples already part of your capsule wardrobe.
With the Jeans and T Combination, you can't go wrong with this timeless look. Style one of your well-fitted tees with a pair of wide-leg or straight-leg denim and a functional pair of sandals that you can keep wearing once you arrive at your beach destination.
The Put Together Athleisure Look, we get it; athleisure wear is no longer only for the yoga studio; we love this cozy and functional look for an afternoon of museum exploring. Keep things sporty and sleek with a travel outfit combination of compression leggings, sophisticated sneakers, and a tailored blazer. These are three versatile items you can always restyle for different situations throughout your vacation.
The Travel Wrap, we wear a cashmere wrap any season of the year. It is versatile enough to work as a blanket on a plane or in the navigator's seat in an SUV—style yours with a graphic tee, denim, or your legging and blazer combination. Cashmere wraps are always in season.
When you are packing, remember to keep in mind light layers. These will come in handy when you are in air conditioning, and the temperatures dip after sunset. Also, perusing consignment stores for these essentials adds to your unique style and will save you more money than purchasing from the big department store.
We are open seven days a week from 11-5 in downtown Lake Oswego, Oregon. Make sure that you follow us on social media to see what types of consignments we are currently accepting and sneak peeks of items before they make it onto our website or store racks.