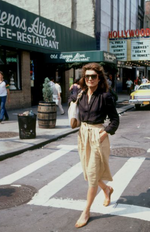 Vogue Magazine has recently been showing up photo inspiration of celebrities, and their historic summer looks. The one article that has captivated us here at Consigning Women is the roundup of Jackie Kennedy's fabulous summer fashions.
So many of the pieces that Jackie Kennedy wore during one of her 1970's European vacations have become timeless pieces of fashion, especially during the summer months.  We've decided to highlight our favorite Jackie summer elegance based on the fashion pieces that we carry and are regularly looking for at the store. Jackie stuck to one simple uniform that is so easy you can re-create it today for your summer vacations.
Jackie's basic vacation wardrobe formula consisted of a simple top (T-shirt or blouse), white trousers, chic leather sandals, her namesake Gucci bag, a scarf, and oversized sunglasses. Easy, right?
Oversized Sunglasses: Jackie made sunglasses into a statement piece. Not only do oversized sunglasses help keep those pesky eye wrinkles at bay but in the summer of 2021, statement sunglasses bring the entire outfit together.

The Striped Shirt: After Jackie wore a striped shirt, women everywhere began to dress as if they had just come from a sail on Nantucket. We still love the timeless look of styling a striped shirt with white denim or a mid-length skirt and sandals or clogs.

Statement Belt: With summer comes long maxi skirts and tanks or shirts tucked in. to make this look pop and look put together, try adding an oversized statement belt.

Sun Hat: Sun hats are a great addition to giving your face some extra protection from the sun. We have a wide assortment of both straw, felt, and other types of beach hats.
Looking through Jackie O's summer style shows you how far a capsule wardrobe can take you—even one that is over 40 years old. When you find your perfect base outfit, subtle changes can take you through the whole summer looking as chic as one of the most legendary fashion icons. Consigning Women is here when you need to add in extra pieces of to help you with your base layers.
We are currently accepting all summer consignments, maxi dresses, oversized sunglasses, sun hats, and sandals. Message us to set up a consignment appointment.