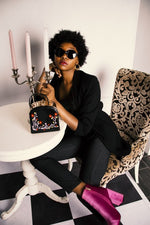 Statement shoes are a great addition to any closet and capsule wardrobe. We have found that when people bring in items for consignment, there are often pairs of statement shoes and have heard a similar reason for consigning them, such as this "I loved these shoes in the store, I bought them but then never wore them. When I put them on, I always second guess as to how/with what to wear them and I never feel like I could pull it off."
Comments like this are why we wanted to share a few simple tips with you, to help you wear and embrace wearing those statement shoes that caught your eye in the first place.
When you decide on adding statement shoes into your wardrobe, first, you will have to consider your lifestyle, and what type of pieces make up the most of your wardrobe, then decide what kind of statement shoes will work best with your capsule wardrobe.
It's one thing to be drawn to a bold color shoe or a fun animal print in the store or online, but if they don't work with your lifestyle and your capsule wardrobe, they are going to sit in your closet, and you probably won't wear them much.
These tips will work best if your wardrobe is made up mainly of solids and neutrals, so a statement shoe is a great way to add texture or a pop of color to an otherwise "plain" outfit.
Keep the outfit simple and make the feature your shoes. Think all black or neutrals.
Wear accessories, including a mask that partners with the shoe, whether it be color, shape, or pattern.
Keep your makeup light.
Confidently walk through the grocery store, on the sidewalk, or even around the house in those statement shoes.
We've got a great selection of Spring statement shoes in right now, and we are open 7 days a week, from 11-5.  See you soon!