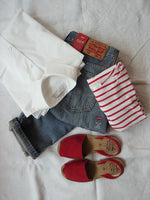 The best part about April in the Pacific Northwest is that the weather begins to warm up and give us a glimpse of how incredible summer is here. The store is filling up with summer wardrobe essentials, and I wanted to highlight a few essentials to make sure you have them in your wardrobe.
Maxi dress
Whether it's very hot or warm in summer, you are still going to need a beautiful maxi dress in your closet. Because there is no other way than creating an easy, stylish outfit with a maxi dress and pretty sandals so, if you want to build a capsule wardrobe, I'd recommend you to start with a maxi dress that you'll love the most.
Basic tee
What do I mean by a basic tee? It's a solid color top that doesn't have anything on it. You can choose your favorite color, but in fact, it's better to go for neutral colors because they are easy to pair with everything.
Button-down shirt
So, if you are either a casual or classy style lover, you are going to love to have a shirt in your closet. You can wear it with jeans or tailored pants that you have there. Both ways, it is very comfortable to wear it even every day.
Denim jeans
Simple denim jeans in the darker wash is a wardrobe staple in any closet because it's again effortless to wear with anything.
Cropped denim jacket
If you are looking for something unique, comfy, and stylish, that's it. A denim jacket is another piece that is perfect for layering your outfits.
Oversized lightweight sweater
We live in the land of layering, and a lightweight sweater will be great not only for the summer but will also transition well into fall.
We are currently accepting all things summer. With an emphasis on platform sandals. Dresses and skirts.