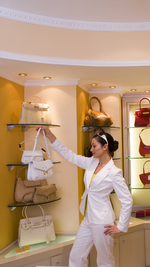 It's nothing new that carrying designer handbags is a symbol of status, success, and style.  From the Birkin to the Louis Vuitton Speedy and the limited SKUs created in between, brands build up bags sometimes leaving customers on waiting lists for months or more.
Leaving the designer bag value at market value, I mean have you ever walked in and seen a Birkin on sale for half off?  With this being the way of the world the market for second-hand designer bags is thriving. So much so that we will get a bag in here at Consigning Women and it rarely makes it on the shelf through the weekend.
A few advantages of buying luxury, pre-owned designer handbags from a reputable consignment store such as Consigning Women is that it eliminates the wait time, it is a far more sustainable practice, and in many cases, the prices are more affordable on the secondhand market.  With this being said, as a consumer, you do need to beware because fakes are everywhere. It takes research and a well-trained eye to spot the difference between an authentic and replica designer handbag.
When you are looking to invest in a second-hand luxury bag we know that you have done the research yourself, you know what the original value is and therefore you will know that if it comes time for you to one day consign your bag that the investment will most likely come back to you.  Choosing to invest in a piece such as Louis Vuitton, Prada, Birkin, Gucci, or Chanel, some of the most popular handbag designers— that demand translates into strong resale value for consignors and savings for the new owner.
When you consign and shop the Consigning Women designer label handbags, purses and select accessories you can expect that our team of experts has adequately authenticated all the items in the store, and are able to guarantee peace of mind that your investment in a piece is authentic.
The inventory at Consigning Women is constantly changing but be sure to check our online store for the designer bags we have in stock.  If you are also looking to consign the bags that you no longer use, we are always accepting designer handbags.