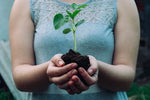 It might be difficult to imagine a silver lining in the upset of our daily routines, but the earth is grateful for this break. Shopping luxury consignment is not only good for your bank account, but it is also good for the health of our planet. The fashion industry is responsible for roughly 10% of carbon emissions (Worldbank Org. 2019). If you would like to read more about the fashion industry and the environment, we have posts helping you understand why the greenest product you have is something that you already own and why buying less and choosing well is better for the environment.
As we move away from the official Earth Month, let's recap how sheltering in place has helped our planet. As cities and lives are asked to stand still, the skies above some towns have been visible for the first time in years. Marine life can be seen in clear waterways in places such as Venice, Italy, and the Himalayan Mountains that are visible for the first time in 30 years in parts of India.
While sheltering in place has brought on these are incredibly beneficial effects for our environment it by no means reduces the anguish and suffering caused by such an outbreak, an economic slowdown, and reduced travel as a result of government-enforced quarantines. It would seem as if Mother Nature is catching her breath while we are becoming more aware of ours.
These are confusing times for all of us, but Consigning Women is committed to helping you look and feel your best. We will continue to bring you as many fun and exciting pieces as we can virtually gather. However, while our online store remains open 24/7, and we'd love it if you found something to purchase from us, but we also understand the financial constraints everyone is facing. We're not going anywhere, we are here now and in the future when we reopen for YOU. In the meantime, let's stay in touch via social media.