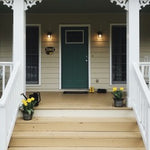 We miss the chatter in our store. We miss welcoming consignors and customers. We miss watching the determination and the giddiness that comes across your face when you find something special on the racks. We miss you.
In this time where health and safety are the priority, we at Consigning Women have altered our way of picking up new inventory so we can continue to offer the freshest and seasonally relevant high-end fashion to each of you, online.
You're safe at home and are deciding to finally tackle the massive project that is cleaning out your closet, and now you want to consign the items but aren't sure if we are still taking consignments or how you can get us your consignments safely.
YES, we are still accepting your consignments, the criteria for acceptable consignment items are still the same. We are as always focused on season-specific clothing and accessories.
Here is how our "No-Touch" Social Distancing Porch Pickup Works:
Email Stephanie or call 971-645-9867 with your address. We will respond to you with a confirmation of your pickup date and time based on our location pickup schedule.
On appointment day, leave items in bags on the porch or designated area. We will confirm the pickup with either a text or a wave to you.
Your items will sit in the store in their original bags for three days before we will handle the contents with gloves.
The items will then sit again after we inventory and process to your account. You will receive a follow-up email or phone call to confirm the processed items.
It could still be a few days before you see your items like a new inventory on the website.
If you have any additional questions concerning porch pickup and how it works, please reach out via email or the number provided.
We look forward to seeing and chatting with you in the store again one day soon. Until then, keep organizing and cleaning out your closets.