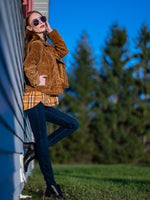 Nothing says fall quite like the changing colors of the trees, lighting scented candles after dinner, trading in your favorite sandals for your favorite fall boots, and of course, cozy sweater weather.
At Consigning Women, we accept all things fall, but what we are looking for are your cozy fall sweaters and boots.
Even though we live life a little bit different this fall, fashion is still happening, and there are always trends for us to keep up with.
The hottest trend in boots this fall is camel colored thigh-high boots. Any color thigh-high boots are in style this season. Thigh-high boots may seem intimidating at first, but they are incredibly versatile. When worn with a fall dress, that can give off some sex appeal, but they can also be casually paired with a chunky sweater and denim.
We are big fans of the oversized chunky sweater with leggings because hello comfort, but when you wear a specific outfit too many days in a row, it can affect your mood.  To which we suggested a more fitted cashmere sweater and denim with a lot of lycra. Essentially the denim with lycra will feel like you are wearing leggings, and the cashmere will keep you warm and cozy.
The final must-have for fall 2020 is the face mask. Face masks are here to stay for the foreseeable future, and while we are all being safe and looking out for others, why not look good too? We are enjoying watching fashion lovers everywhere transition their summer mask patterns to fall and let their face masks show their individuality and style. Come in and check out our locally-made cotton masks in lovely patterns by MaskeradePDX!
Even if the rain has not begun yet, fall is here in the Pacific Northwest. If you are sorting through your closets, we are accepting sweaters, waterproof coats, boots/booties, scarves, and handbags.  Please contact us today to schedule your consignment appointment – 503-697-1636.