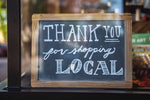 As we enter the holiday shopping season, we just wanted to remind you how important it is to shop small and locally owned businesses this season.
This year has been an unprecedented one for retail shopping indeed. We are operating on the state of Oregon's guidelines. We have a maximum of six people in the store at the same time to optimize social distancing protocols. Masks are required for shoppers and consignors at all times. We have hand sanitizers and disposable gloves available to anyone who would like them. 
Consigning Women is currently open seven days a week from 11 am-5 pm. If you are looking to consign your clothing, please call the store to schedule an appointment. 
In the end, your support, however it may come, means the world to independently owned shops, especially this holiday season.
Support comes in so many different ways, but when you decide to shop small, that purchase, regardless of size, has a direct and positive impact on another human being and the community.
We are doing our best to keep you safe and helping you look and feel your best this holiday season and beyond.