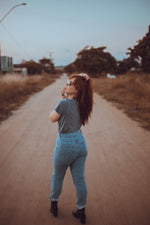 We have recently been getting asked what denim trends for 2021 are because there are other trends besides our tried and genuine work from home athleisure wear trends.  
The latest debacle on social media is Gen Z stating that skinny jeans are out. The un-trending of the skinny jean was a tough viral post for most of us to swallow. Still, if you have been paying attention to fashion trends on the runway for the past few seasons, you will have noticed that skinny pants have been mainly absent on the runways, which have been featuring baggy denim styles for seasons now.
Are baggy pants the way to transition from all-day sweatpants to fitting pants once the grips of the pandemic have loosened?
Here are three post-pandemic styles of denim that are acceptable according to recent runway shows.
Boot Cut: Yes, boot cuts are back. But don't be afraid, worn in a dark wash with heeled shoes rather than flats, this is a very flattering style.
Boyfriend or Asymmetric: A great way to ease into the baggy leg trend. If you are wanting to continue wearing boots or booties, try this style in a cropped version.
Straight Leg: Straight leg jeans should be one of your closet staple items. While they work both cropped or mid-length, we like the high-waist version in a dark wash to accentuate your legs.
In other words, authentic thick denim is back; think Thelma and Louise on the road trip, Monica's incredible pair of straight leg jeans the first few seasons of Friends.
While our perception of what looks cool or is "on trend" has shifted, as always, make sure that you are dressing that you feel amazing in what you're wearing. Trends are around to guide you, but we all know in fashion what goes around comes around.