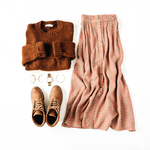 Fall and winter clothes are some of our favorites here at Consigning Women, mostly because we love to layer on those foggy and chilly PNW mornings. Among the fall and winter 2021 color trends, you'll find a lot of different shades of green, maybe because designers are looking to the Great Outdoors. There are also bright pops of colors, pastels, and plenty of neutrals to wear with them.
Let's take a look at the major color trends for winter and fall 2021. See if you already have some of these in your closet – or whether there's anything you want to add.
Many designers took military inspiration for their looks. You can see that from the olive greens and khakis above which would traditionally be used in military uniforms. You could definitely wear these as a neutral with pops of brighter color, such as orange.
Lime green is particularly on-trend right now. A great way to add some modernity to one of your existing black or navy looks could be to add a little of this acid shade of lime green.
Although pastels may traditionally be seen as a spring and summer trend, there were many designers who opted for a subtle minty shade of green.
If it's still summer where you are, or you're on vacation, you could wear mint green with your white jeans and metallic shoes and accessories. For winter and fall, you could wear navy
Another shade more traditionally associated with warmer weather is pink. But there was lots of it on the catwalks for winter. If you want more advice on how to wear pink in a sophisticated way, then take a look at this article on the colors that go best with pink.
Red never goes out of style.
Is it brown? Is it orange? It's kind of a mix of both.
Which of these fall 2021 color trends will you be wearing? Which do you already have in your closet?
We are ready for your winter consignments, we are now accepting your water-resistant jackets, boots, sweaters and denim.