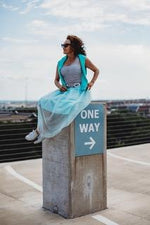 When we reach our 40th birthdays we can begin to think about, how do we do this thing (aging) with grace, strength, and positivity? This question goes beyond your closet, it's your mind, body, and soul. Your skin regime and your workouts.
 It's no secret, our bodies change once we hit the age of 40. Our bodies physiologically change. Our hormones shift, and we begin to notice things from thinning hair, duller skin, and a slower metabolism. When these biological life events start to happen, it can shake our self-confidence and make us begin to wonder what exactly we are supposed to wear now that we might not even be comfortable in our skin. Just because you've reached 40 it doesn't mean that you need to start wearing jeans that come with an elastic waistband or "sensible shoes."
Consider dressing for the double-take. You know the woman who, at forty, fifty, sixty, and beyond, that everyone just seems to follow her with your eyes as she struts the sidewalk in something she "threw together?" Her style doesn't just speak to her youthful spirit, but also her Wisdom of the Ages. She's beyond the rules because she makes them up.
Here are our 4 recommendations for pieces to have in your wardrobe to keep on giving all of those double-takes
A black sheath dress: The most "easy" and versatile models are probably the black sheath dresses, long at the knee or just above/below. But, really, you can range to your liking: the important thing is that they reflect your style and best emphasize your body and your personality.
A light blouse or shirt: We love everything from classic shirts to boho blouses. But the important thing is to find one – or even many – that suits you and your style. Or that creates a sharp contrast with your usual style, to create fabulous outfits!
The perfect pair of jeans: Many women I know think that jeans no longer suit their physicality. Nothing more false than this: jeans are such a great, varied garment that it is literally impossible not to find what is right for us!
A fabulous bag: In this case, "fabulous" does not necessarily mean you have to own an expensive bag or a designer piece. The important thing, in my opinion, is to have in your closet at least one bag that is of excellent quality, made of beautiful leather and well finished.
Keep in mind one crucial thing: NO MATTER how old you are, Consigning Women helps you age with style. Fashion should be fun, and it does that when you feel comfortable and confident. at Consigning Women we are here to help you find pieces and teach you how to style them in a way that will leave you feeling confident and ready to take on anything.  Call us for a free appointment with our in-house stylist – 503-697-1636.